I spent a great morning with a few friends doing some quilting. I actually just did some cutting - getting the fabric ready for piecing some blocks. Cutting the fabric for preparation is a little boring so it was much nicer being able to chat with friends while doing that!
How many of you went to the AQS show in Grand Rapids this past weekend? Was it inspiring? It's amazing how many talented quilters there are out there! The piece work, blending of fabrics, and even embellishing was fantastic. I couldn't stop saying "Oh!".
I also met one of my favorite designers! Lori Smith of "From My Heart To Your Hands". Her booth full of mini quilts was awesome. I had to buy two of her patterns, of course, and she even signed them both. I can't wait to start the one below which is 18" x 24"! She had it done in blues and greys.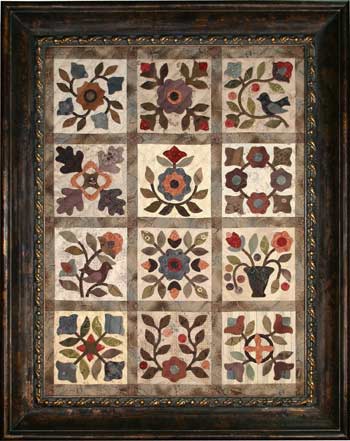 Want to win fabric for life? Or even for a year? Click on this Fons & Porter link and sign up!
http://ck.upickem.net/engine/YourSubmission.aspx?contestid=65982